It is no secret that Dempsey Essick is a bird lover. Dempsey is known as the Hummingbird Artist not only for the hummers he paints but also for as his inclusion of a rebus hidden hummingbird in most of his paintings. He is a past president of the NC Bluebird Society and continues to speak to civic groups on the plight of the Eastern Bluebird. Dempsey's love of all our feathered friends is reflected in the many bird related paintings he has rendered.
Welcome Bluebird Sanctuary - A Project in the Works
Dempsey Essick is currently collecting names on a petition at Dempsey's Place to have Welcome, NC declared a Sanctuary for the Eastern Bluebird.
"Bluebirds are making a comeback after once being listed as endangered, but they need our help in providing the proper housing," Dempsey shared. "We plan to establish a bluebird trail through the heart of Welcome with businesses and individuals sponsoring boxes. We will have volunteers to monitor the boxes during birding season so this will be a real community project." The petition will be presented to the Davidson County Commissioners in January and hopefully the sanctuary signs will be placed soon after.
If you are a Davidson County Resident please stop in and sign up. We wish we could accept signatures via email but they are not legitimate. The birds will love you for your effort and you can be sure be sure your taxes will not go up.
Larry Shoaf of Lexington stopped in for the sole purpose of signing the petitions. Bluebirds stay around all year and do not migrate. Bluebirds are loyal friends and so are bluebird lovers.
Click Here to read the article "Artist welcomes bluebirds to sanctuary" published in The Dispatch on October 5, 2010.
How the Hummingbird Became Our Mascot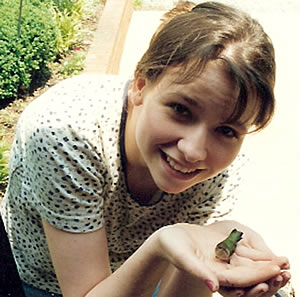 It was like a harbinger of all good things that morning almost ten years ago when Beth Essick held a hummingbird in her hand. We do not know how the tiny creature came to be sitting beside her on the family's patio, but the one thing we do know is that it was not sick and it was not stunned. The little creature allowed Beth to place it in the palm of her hand. As she rubbed its tiny head, it closed its eyes and as she stroked its neck, it tilted its head back wanting more. Beth even had time to speak to her mom on the cordless phone to say she was holding a live hummingbird.
Fortunately, Beth's dad, Dempsey Essick, was home and fortunately there was film in his camera. Dempsey successfully captured the remarkable moment in time.
For Dempsey it was a good luck sign. How often, in a lifetime, do you have a chance to study and photograph the iridescent feathers of one of nature's smallest birds. Allowed to leave when he was ready, the small speedster circled once then zoomed away.
Every painting Dempsey has done since that day has included a rebus figure of a hummingbird hidden in the design. The Hummer-ville USA Gift Line at The Dempsey Essick Gallery features an extended line of hummer gifts. And, if you happen to be around Dempsey's backyard you might need to be careful not bump your head on one the many hummingbird feeders.
Click here to read how this event inspired a BIG piece of art.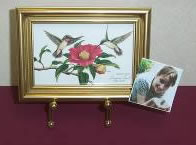 The first in the series of Essick Thumbnail Prints was entitled, "Camellia & Friends" and features a male and female hummingbird hovering over a camellia bloom. The small framed, signed and numbered print, is dedicated to Beth and comes with easel and its own photo of Beth & Bird.
Dempsey's Birding Tips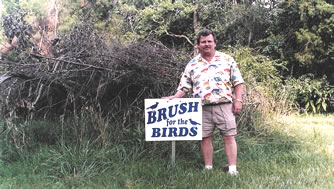 This text will be replaced by the flash music player.
If you keep a brush pile on your property, the birds will sing for you. If you have the room, maybe a back corner of your lot, to leave a brush pile, it will provide a wonderful refuge for the goldfinches as well as other songbirds.
Try ground feeding near the pile and have a birdbath close by. I have seen no fewer than 20 birds - all varieties - leave our brush pile at once, after a storm clears."
Listen to the sounds of some of my favorite birds from my brush pile using the player at the right.
February is the time of year to inspect and maintain your bluebird boxes.
Use a wire brush to clean the box and remove any old nests that might remain. Look for and remove any wasp nests. If there was no activity through last year's nesting cycle, then now is the time to move the box to a better spot.
Bluebirds like lots of wide open spaces with low growing grasses so they can easly find and catch lots of insects. Try hanging your bluebird box on a fence post or telephone pole facing a field or large lawn.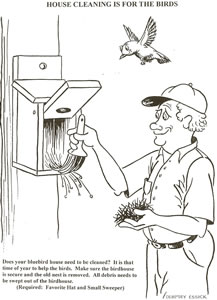 They stay year-round, do not migrate, and you can develop a personal relationship with them as I have. I feed my bluebirds daily at 8 a.m. and 5 p.m. I have a special way I whistle to call them, and they fly to their own feeding platform and await the arrival of the live mealworms. The birds know my vehicle and greet me when I come home, and it is not unusual for them to swoop down over my head, wanting me to bring them food. So during the snow the bluebirds enjoyed dining at their private feeding station.
For more information on bluebirds and this delightful hobby, I encourage you to contact:
The North Carolina Bluebird Society
P O Box 4191
Greensboro North Carolina 27404
Live mealworms may be ordered from Grubco at 1-800-222-3563
Happy Birding!"
How to Draw Dempsey's Hummingbird