Dempsey Essick is a self taught, self expressed realist watercolor artist. He is known as the Hummingbird Bird Artist; not only for the hummingbirds he paints but for the hidden hummingbirds he hides in his paintings.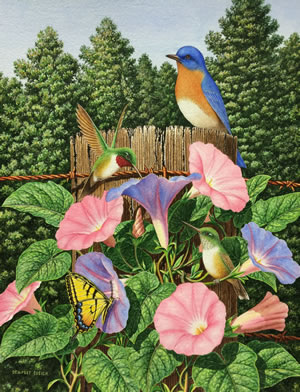 "September Morning"
A joy of September is the arrival of the morning glory in gardens and cornfields just in time for harvest. The morning glory with its twining vines and bell shaped flowers that last only for a day, adds a wonderful touch of color to the landscape as the fall season nears.
The rendering is a happy depiction of hummingbirds, a bluebird and a butterfly enjoying the freshness of an early September morning. May this painting alert you to the abundance of morning glories on our surrounding countryside. Distinguish the male hummer and then look closely for the hidden hummer.
"Since our last posting, our fine art printer and long time friend, Tom Hall passed away after a sudden two month illness and we are still reeling from that loss. Due to that and my upcoming retirement, I am sad to report that there will be no fall print release. As I prepare for our last Christmas season in the shop, I have released a small edition print that features my favorite subject matter. It will be sold framed only, on a first come basis."
Dempsey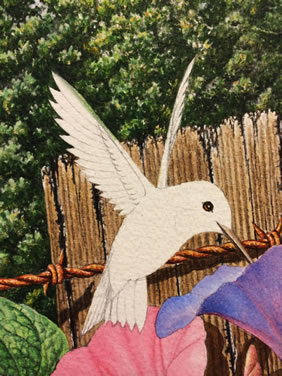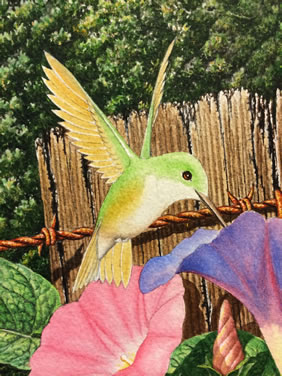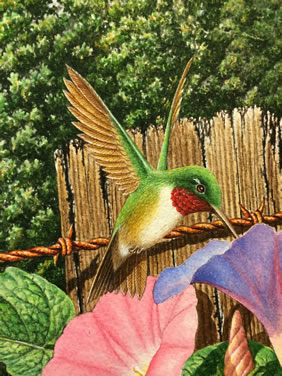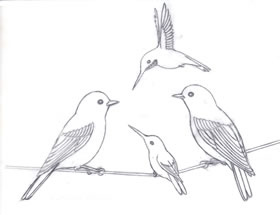 Rumor has it that thousands of hummingbirds failed to make migration but rather chose to meet on local power lines with area bluebirds to discuss the retirement of Hummingbird Artist and Bluebird Lover Dempsey Essick.
Happy Retirement, Dempsey!
My Artwork Collections
Here you will find my artwork arranged in collections. Click on a collection to enter. Inside you will discover the history behind each piece. I will inform you of pieces with hidden hummingbirds and I will disclose their location if you wish but try to find them yourself, without me telling you. It would be a shame to spoil the fun of the search.
The Master List
This is the master list of all my work in alphabetical sequence which is very handy for collectors of my artwork. It's a quick and easy way to find any piece in my art folio. Click below on the piece of interest to discover the story that inspired me to paint it.
Other Dempsey Originals
Copyright ©
• www.DempseyEssick.com •
All Rights Reserved.

Last Update: 2/7/2019