n5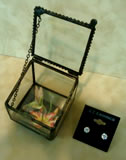 Essick Collector's Box
Signed hummingbird image
Beveled glass hinged box with chain
2" tall; 2 ¼" deep
Complimentary earrings; Gift Boxed $18.00
p1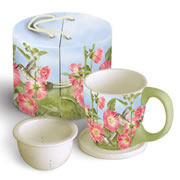 Hummer 'n Holly
Tea Mug Set
Your tea will taste better out of our Hummer 'n Holly Tea Mug Set. Ceramic mug, steeper & lids. Dishwasher safe.
Beautifully boxed $20.00
n1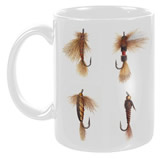 "Fishing Flies"
Tall Mug
Gift Boxed with storyline $10.00
n2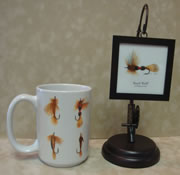 "Royal Wulff"
and matching
"Fishing Flies" mug
Enjoy Dempsey's signed & numbered thumbnail, "Royal Wulff", displayed on a 9" fly rod stand.
Gift Bagged with matching mug $40.00
22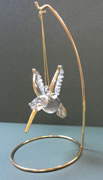 Hand Spun Glass Hummer
Comes with 6" Goldtone Stand
Very Polular! Sold Out
2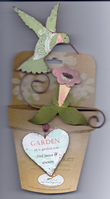 Hummingbird Plant Stake
Comes with bow and gift card attached
A nice pick up gift $9.50
3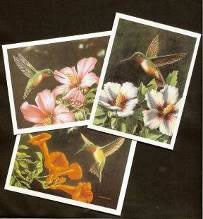 Dempsey's Own Hummingbird Note Cards
8 Cards of 8 images
$6.00
4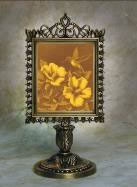 Dempsey's Victorian
9" Tabletop Brass Lamp
Features "Hummer's Choice"
$49.00
6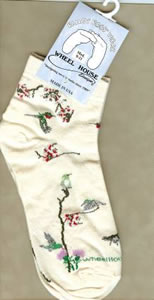 Hummingbird Socks
You're kidding...
You have bragging rights as a hummingbird lover when you show off your novelty hummingbird socks purchased at Dempsey's Place.
Anklets $10.00
Crews $10.50
7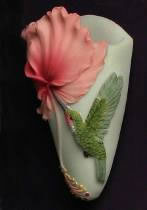 Hummingbird Vase Magnet
This 4 inch hummingbird vase magnet is a popular item in our shop. As a magnet it can hang on the refrigerator or can mount to the wall. It's waterproof so add a fresh bloom.
$9.00
9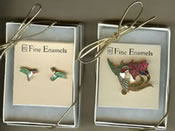 Hummingbird Jewelry
This particular line features wire and post hummingbird earrings, hummingbird pins and even hummingbird lapel pins. They are 22ct gold plated and are some of our best sellers.
$12.00 for the Post Earrings
$15.00 for the Pin
12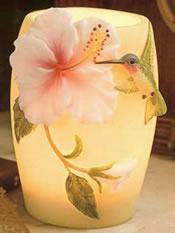 Electric Night Lamps
Use these anywhere in the house. They are beautifully sculpted, cast in bonded marble and hand painted.
Comes with cord switch and 15w bulb.
The ideal gift.
Smartly Gift Boxed. $29.00
13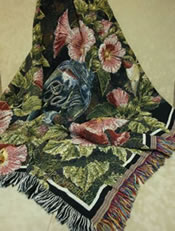 Beautiful Throw
This throw features "Summer Hollyhocks"
Measures 40 x 50
A Humm-dinger!
Made in the USA $42.00
14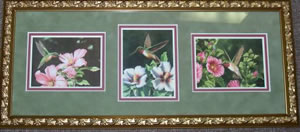 Hummerville Trilogy
Three Essick hummingbird images are doubled matted and framed.
17 x 8 Gold or Wood Frame. Very, very nice!
Choice of vertical or horizontal $45.00
17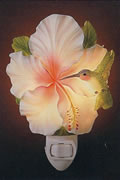 Hummingbird & Hibiscus
Night Light
Always Popular.
Beautiful Burning Day and Night.
Nicely Boxed $18.00
18
Hummingbird Nest
Night Light
Always Popular.
Beautiful Burning Day and Night.
Nicely Boxed $18.00
19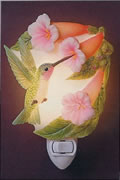 Hummingbird & Trumpet
Night Light
Always Popular.
Beautiful Burning Day and Night.
Nicely Boxed $18.00
20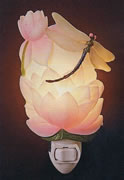 Dragonfly
Night Light
Always Popular.
Beautiful Burning Day and Night.
Nicely Boxed $18.00
n7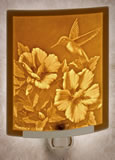 "Hummer's Choice" Night Light
Dempsey hummingbird painting comes to life in this porcelain night light.
A Designer Gift Item
Gift Boxed $25.00

Almost Gone
n9

Songbird Magnets
Cute Gifts to Have on Hand
$4.00
n14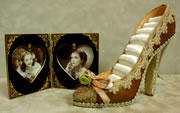 For Her
Double Hearts Hinged Frame
Gold & Burgundy with Rhinestones
Store your rings in our trendy High Heel Shoe Caddy
Frame $21
Shoe Caddy $13
n15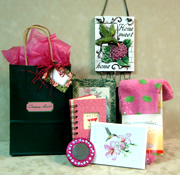 Girlfriend Gift Bag
In a hurry? Need a quick gift on the run? A Pretty N Pink Girlfriend Gift Bag is for you.
A purse journal, glitzy hand mirror, spa socks, garden chime, door hanger, and a 4 pack of Dempsey's beautiful hummingbird note cards make the perfect gift when you add our gift tag and raffia bow.
It's a great value!
Girlfriend Gift Bag $20 ($29 value)
p2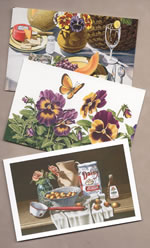 Essick Postcards
Pack of 10
3 Images
Limited Number $3
n6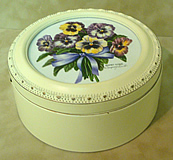 "Pansy Bouquet"
Jewelry Box
Every pansy lover needs Dempsey's jewelry box!
4 ¾" round; 2 ½" tall
Signed only $25.00
n3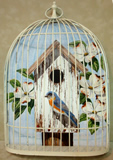 "Box Watch"
Dempsey's print comes framed in a cage that provides the perfect accent for other Essick bluebird art.
Signed & Numbered
12 ½" x 9 ½"
Edition: 100
$49.00
n4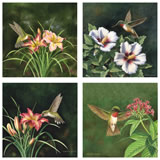 Essick Coaster Stones
Set of 4 Different Hummer Images
$20.00
21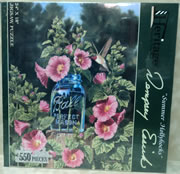 Relax with an Essick Puzzle
Choice of:
"Summer Hollyhocks",
"The Bass Corner",
"Wilson Creek",
"View from the Veranda",
or "The Fledgling".
Work your puzzle and then bring in for Dempsey to sign!
550 pieces! $17.00
1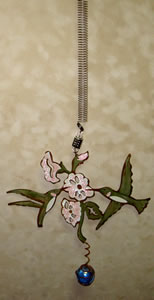 Hummingbird Bouncie
These hummingbird bouncies are fun and are back in stock after having sold out twice.
Meant for outside use they are perfect to hang from cabinets or windows with your other hummingbird collectibles nearby.
$10.00
23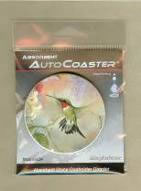 Hummingbird Auto Coaster
The price is right and every hummingbird lover can use this handy item!
$3.00
25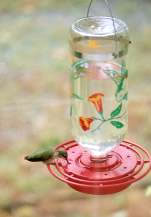 Best-1 Hummingbird feeders and supplies
Why we love Best-1 Feeders
Glass bottle is safer for birds
Glass lasts longer than plastic
Won't leak or drip
No bees or wasps
8 Feeding stations
Built in perch
Base & glass separate for easy cleaning
Easy to clean neck w/specialty brush
Feeder $12.00
Port Brush $1.25
Insect Guard $6.50
Nectar Packet $2.00
Bottle Neck Brush $6.00
26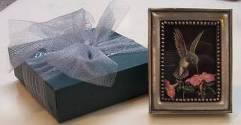 "Sweet Petunia"
Precious in Dempsey Essick's Gift Line is the Pinkie Edition, a tiny treasure, slightly smaller than our Thumbnail Print. Pinkies are as elegant as the smallest of birds, the hummer. This attractive, heavy 7 oz pewter frame holds a fine art reproduction of a ruby-throated hummer sipping nectar from a petunia blossom. Initialed on the front and signed and numbered on the back by the Dempsey himself, this Pinkie Edition is a future heirloom.
Framed size: 2 7/8" x 2 3/8"
Gift Boxed $20.00
28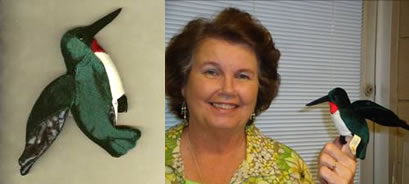 Hummingbird Finger Puppet
Teach your kids or grandkids about hummers with our new Hummingbird Finger Puppet
This male hummingbird measures 5 inches and is true to color. Soft to touch, it slides onto your pointer finger and will delight any age.
Unique! $8.00
29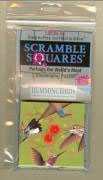 Hummingbird Scramble Square Puzzle
Easy to play but hard to solve are our Scramble Square Puzzles. Match up the hummingbirds in this 9 piece brain teaser. A great gift for someone who is confined or anyone who likes a challenge.
$9.00
30

Hummingbird Letter Opener
Beautifully boxed and ready to give.
A great gift for retirement, wedding, or any special occasion
$37.00
32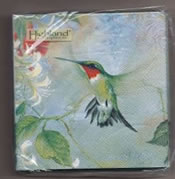 Hummingbird Napkins
Dress things up a bit and serve that glass of tea with our hummingbird napkins.
20 Napkins sized 10 x 10.
Sold Out
36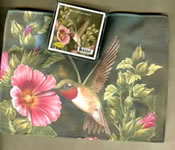 Dempsey's Own Micro Fiber Cloths
Ideal for use with cell phone, glasses, computer screen, and CDs. Comes in plastic case to fit in purse or pocket.
5 ¾ x 7 ¾
Choice of 4 images $6.50
37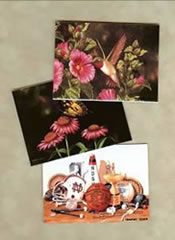 Essick Magnets
Each measure 2 3/4 x 4 and include two hummingbird images.
We sell lots of these!
Cellophane wrapped. SOLD OUT
38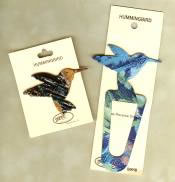 Lazart Hummingbird Pin and Bookmark
They're Back!
Nice gifts to have on hand are our Lazart Hummingbird Pin and Bookmark. Laser cut from metal and delicately painted they are a great value.
$7.00 and $6.50
39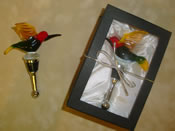 Glass Stoppers
These art glass stoppers will surely dress up your favorite wine bottle.
Choice of butterfly or hummingbird.
Nicely boxed $11.00
n8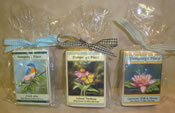 Soaps Au Natural
The perfect gifts at the perfect price are Dempsey's Soaps Au Natural. Tied shut in a crisp cellophane bag they are both pretty and practical.
Sold Out
n16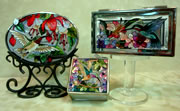 This Line is Always Popular
Sun Catcher with stand $15
Small Jewelry Box $11
Rectangular Jewelry Box $23
n10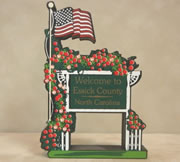 From Essick County
Enjoy this three dimensional art on your mantel or door frame, or accent your Essick Art.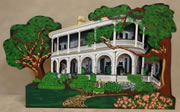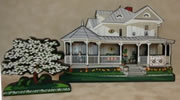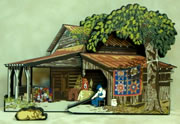 Sign Post - 3" - 1 pc $5
Two Meeting Street - 5 ¼" - 1 pc $10
Irena's House - 4 ½" - 2 pcs $10
Hubie's Barn - 4 ½" - 2 pcs $10
n17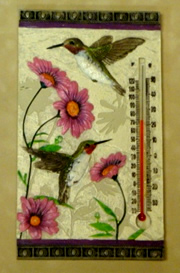 Hummingbird Thermometer
Everyone needs a thermometer and these hummers sure dress things up a bit.
Use inside or out.
$16
n18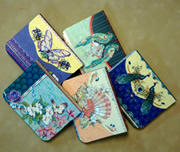 Purse Pad
She'll love a purse pad with a magnetic cover.
Choice of design
$4.75