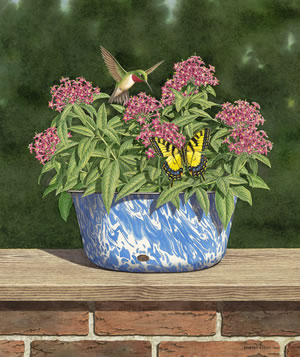 "Wait Your Turn"
When Shelley and I heard that hummingbirds were drawn to Penta plants we hurried out, potted two and waited to see. Sure enough there was never a hummer far away from the star shaped bloom but what I did not know was that butterflies were attracted to the plant as well. When I went out to photograph the hummingbird feeding at the plant, I found that the two did not drink at the same time. The hummer was waiting patiently as the butterfly sipped his sweet nectar first. I went inside, sketched it off and it has been in my pile of "ideas" for several years now.
In laying out the painting I felt that a blue enamelware bucket would complete the scene. My good friend Dennis Crotts has an extended collection and when I saw his graniteware bucket I knew it was exactly what I needed. Dennis loaned me the bucket and several other pieces to be displayed with the original painting.
I found painting the Penta plant to be quite challenging. Each little clump has multiple blooms and their detail was very time consuming. The enamelware was a lot of fun to paint in that it is almost like a painting within a painting trying to duplicate the blue swirls.
I am so pleased how this piece turned out. Even though it may appear simple, it was very complex to paint with the flowers, the swirls, the grain of the wood and the texture of the bricks. As always I have included a hidden hummingbird and locating it will, this time, prove to be a challenge.
A companion piece to "Wait Your Turn" is "Pump House Shadows". They are of the same palette and the two group perfectly together.