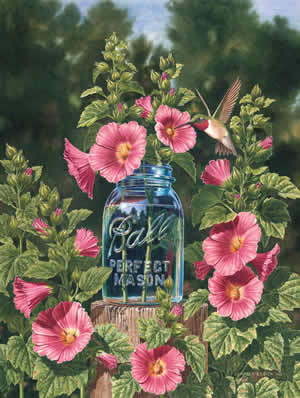 "Summer Hollyhocks"
When it comes to painting you could say that Dempsey Essick is a man of all seasons. His snowy winter scenes make you want to put on a sweater and turn up the thermostat. His fall foliage makes you long for a thanksgiving turkey and pumpkin pie. His spring scenes are reminiscent of newly planted gardens and the sound of lawn mowers. But it is the weeks of summer that he loves.
Summer is warmth. It is a time when the trees are green and all the flowers are in bloom. It is a time when migrating birds, like the ruby throated hummingbird, in one of the most remarkable migrations in the animal world, return to decorate your back yard. When the nights turn cold this tiny, and most remarkable bird, will head south by stages, eventually crossing the Gulf of Mexico, to spend the winter in warmer climes. In the summer the miniature bird will return to the exact same back yard and expect to find the same feeders and flowers in the same places.
The hollyhocks in this latest Essick painting are flawless. Each fold, petal and shadow is faithfully recorded. Dempsey's friend and Welcome, NC botanist, Kitty Craver, was reminded of her childhood days when they would trap honeybees in hollyhock blooms by quickly folding the leaves over the bees then they could hold them up to their ear to hear them buzz.
To further emphasize the tremendous skill evidenced in "Summer Hollyhocks", there is a perfect, weathered, fencepost with an old fashioned canning jar used as a flower vase. The depiction of the canning jar almost filled with water, with all the reflections, the embossing and threaded top and with flower stems showing through the glass and water took over thirty intense hours to accomplish. If there were Olympic medals for painting, this simple Ball Mason Jar would win the Gold.
The world of great art can consist of everything from carved and molded sculptures to the impressionist's swirl of blended and contrasting colors seemingly splashed onto the canvas at random, or it can be the realist's depiction of segments of everyday life. Dempsey Essick is a master realist who sees the beauty in nature as well as man made objects and has the perception and great skill to bring that beauty into focus in his remarkable paintings.
Onlookers may continue their search for the hidden hummingbird that has now become a hallmark of an Essick watercolor painting.
"Summer Hollyhocks" related gifts items will be the newest addition to the ever growing hummingbird accessory line at Dempsey's Place, referred to as Hummerville, USA.