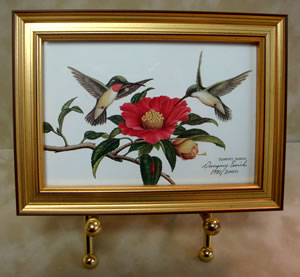 "Camellia and Friends"
Three days before her 17th birthday, Beth Essick received a rare and unexpected gift. She found a ruby-throated hummingbird on the back patio of her family's home. She picked up the apparently uninjured miniature creature and petted it for about five minutes during which time it made no effort to escape. In fact, it seemed to nuzzle up to Beth's finger when she would stroke its neck.
When the tiny bird finally took wing, it circled Beth's head several times before it flew away. It was a magical moment, one that turned an ordinary summer day into one that will be remembered for a lifetime.
Beth's dad, Dempsey Essick, had been searching for a suitable subject for a miniature print to offer customers at his art gallery. Beth's encounter was like a heaven sent sign and he painted "Camellia and Friends" to commemorate the event.
The painting, "Camellia and Friends," has been featured as a signed featured as a signed and number thumbnail print, a checkbook cover, a mini pillow, a magnet and a mug.
Gift Boxed w/Easel: SOLD OUT